MPC AND NETFLIX JOIN HANDS TO ESTABLISH TELEVISION AND FILM RELIEF FUND
Netflix donates 16 million baht (approximately US$ 500,000) to the fund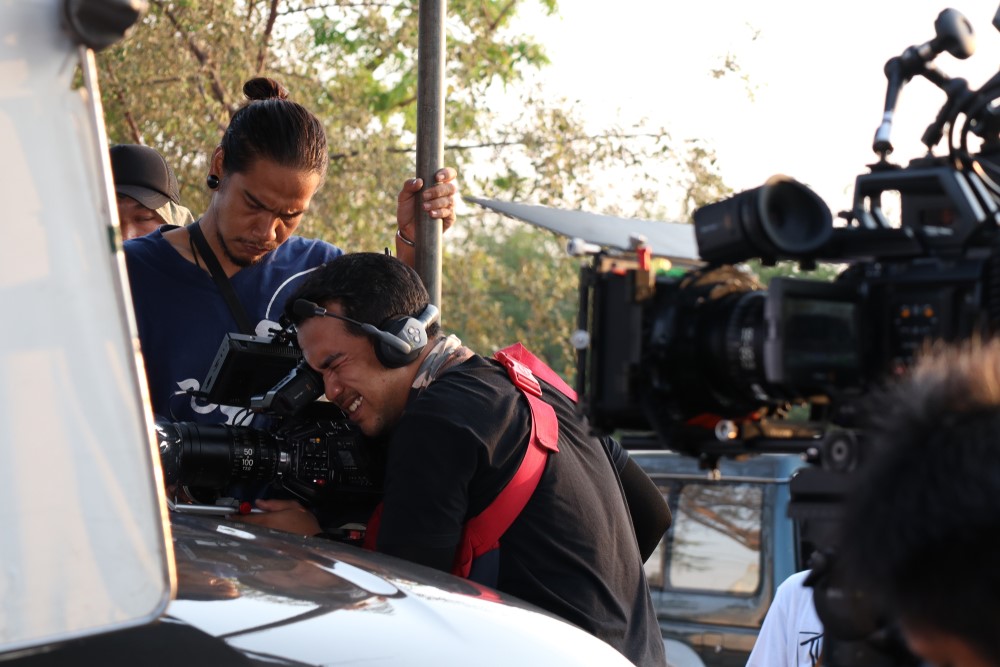 (Image credits: Shutterstock)
Bangkok - 28 May 2020 -- The National Federation of Motion Pictures and Contents Association (MPC) in partnership with Netflix, today announced the creation of the "MPC COVID-19 Relief Fund for Film and TV Freelance Production Personnel" to support the hardest hit freelance workers in the television and film industry.



The Covid-19 pandemic has devastated creative communities all around the world, including Thailand. Many film and TV productions have ceased, leaving thousands of freelance workers without income. MPC's partnership with Netflix to establish this industry relief fund will help the hardest-hit by the current situation. To support the fund's establishment, Netflix will contribute 16 million baht.



Dr. Sorajak Kasemsuvan, Secretary-General, MPC said "As the representative of the industry, The National Federation of Motion Pictures and Contents Association realises the full extent of hardship experienced by all sectors of the film and television industry caused by the spread of Covid-19; especially felt by freelance production workers. Coupled with the amazing contribution made by Netflix, we are extremely pleased to be given the opportunity to mobilise support and help our fellow industry personnel who are experiencing hardship at this moment. The federation sincerely hopes that this fund will go some way toward relieving hardship of our industry family and friends during this Covid-19 crisis".



Myleeta Aga, Director, Content, SEA & ANZ, Netflix said, "We are grateful to the creative community and the work that they do to bring compelling stories from Thailand to Netflix. In partnership with MPC we would like to support those in this community who are most affected by this unprecedented situation".



Applicants must be freelance workers who are typically employed on a project-to-project basis - for example: production assistants, assistant editors, boom operators, etc - in Thailand's film and television industry, will be eligible to apply for this one-time benefit. Applicants can register online from June 4, 2020.



Details of the relief fund


Eligibility criteria: Applicants must be freelance workers in Thailand's film and television industry who were working on projects which were cancelled or postponed due to COVID-19 from 26 March 2020 (during the time when the emergency decree was announced). This excludes personnel who are currently attached to active Netflix Original productions or have received prior relief support from Netflix. All applicants must be Thai nationals or permanent residents and are freelance production workers performing one the following roles:


● Animation and VFX - Freelance (e.g. 2D/3D animators, Concept/Storyboard artists, 2D/3D VFX artists, VFX editors, VFX coordinators, VFX technical assistants, others)

● Art - Freelance (e.g. Props Buyer, Standby Props, Scenic Artist, Set Construction Crew, Art Assistant/Runner, others)

● Wardrobe & Make-up - Freelance (e.g. Wardrobe Assistant, Assistant Make-Up Artist, Assistant Hairstylist, others)

● Production Management - Freelance (e.g. Production/Location/Unit Assistant, 2nd/3rd Assistant Directors, Set Runners, Production Accountant Assistant, Accounting Clerk, Location Assistant, Casting Assistant, Assistant, Production Drivers, Craft Service Assistant, others)

● Post-production - Freelance (e.g. Post Coordinators, Assistant Editors, Post-Production Assistants, Sound Assistants, Assistant Colourist, Transcribers/Loggers, others)

● Technical - Freelance (e.g. Data Wrangler, Camera Assistant, Boom Operator, On-Set Sound Assistant, Still Photographer Assistant, Electrical and Lighting Crew, others)


How to apply:

Applicants must first complete (1) the application form and (2) the verification of employment form approved by the employer, as proof that work had been disrupted.

Both forms above can be downloaded from

www.mpc.or.th

from 28 May 2020.
Submit (1) the completed application form, (2) the verification of employment form, (3) a copy of the applicant's national identification card or passport and (4) a copy of the applicant's bank book through a designated >>>

Google Form link

<<< (announced on MPC's landing page) from 4 June 2020 onward.


Start date/time:

4 June 12:00hrs to 11 June 23.59hrs or until the application limit has been reached, whichever happens first.



Only fully completed forms downloaded from www.mpc.or.th submitted through the >>> Google Form link <<<, along with all the documents stipulated in the application process above, on the correct submission date and time will be considered. The evaluation of eligible applicants for the relief fund by the MPC evaluation committee will be considered final. Merely submitting all of the specified documents alone does not guarantee that applicants will receive the funds.



Confirmation timing:

Eligible applicants will be informed by MPC via SMS and email two weeks after making their submission.



Donation amount:

฿15,000 Thai baht per applicant


For further information, please contact MPC:

Tel: 02-6439100 (direct line)

Email: info@mpc.or.th


About MPC

The National Federation of Motion Pictures and Contents Association (MPC), established in 1990, is a private and central organization representing the Thai film and audio-visual industry. MPC's mission is to drive the industry toward success and create mutual understanding and solidarity between association members. Currently, there are 13 juristic association members and over 200 juristic and ordinary members within the organization. MPC also hosts the Suphannahong National Film Awards and selects Thai films to compete at the Oscars in the Academy Award for Best International Feature Film.


About Netflix

Netflix is the world's leading streaming entertainment service with over 183 million paid memberships in over 190 countries enjoying TV series, documentaries and feature films across a wide variety of genres and languages. Members can watch as much as they want, anytime, anywhere, on any internet-connected screen. Members can play, pause and resume watching, all without commercials or commitments.
..................................................
Download : Guide for registration